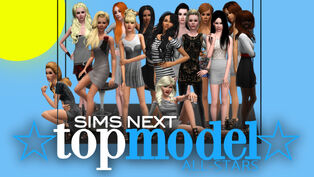 Sims Next Top Model: All-Stars is the second season ever to include returning contestants, but the first time to include only returning contestants.
The international destination is Marrakesh, Morocco.
The promotional cycle for this cycle is "In The Dark" by DEV.
The girls are from cycles 2-5. None of the returning contestants won their cycles, because that would be unfair. There's 2 from cycle 2, 3 from cycle 3, 5 from cycle 4 and 4 from cycle 5. The reason why that makes it 15 girls is that Ksenia was originally in cycle 3, but she came back as a contestant in cycle 5, which was returning contestants vs. new contestants. The returning contestants and their prior placements are:
From Cycle 2:

Lisa Franks, 3rd/4th place
Savitra Titus, 6th place

From Cycle 3:

Iyzebel Har-Zahav, 9th/8th place
Ksenia Dolgosheevain, 7th place
Nokutula Kukalo, 3rd/4th place

From Cycle 4:

Alexandria Zegalli, No official placement
Flora Martinez, No official placement
Yumiqua Totinuko, No official placement
Ayami Turkish, No official placement
Tafatia Miles, runner-up

From Models vs. Wannabes (Cycle 5) (Only the non-returning contestants):

Ava Kelly, No official placement
Christine Manning, No official placement
Yurie Sakuranbo, No official placement
Ad blocker interference detected!
Wikia is a free-to-use site that makes money from advertising. We have a modified experience for viewers using ad blockers

Wikia is not accessible if you've made further modifications. Remove the custom ad blocker rule(s) and the page will load as expected.